Distance: 104,26 km Time: 5:25 Total distance: 3863 km
I didn't want to get out of my bed this morning as I knew it would rain. Actually it wasn't raining. It was just drizzle. So I was able to ride without a jacket and just my long shirt. But the closer I got to lunch the more it started to rain.
At lunch I met a British guy travelling with a motorbike. We had lunch together. The picture of him is actually the only picture I took today…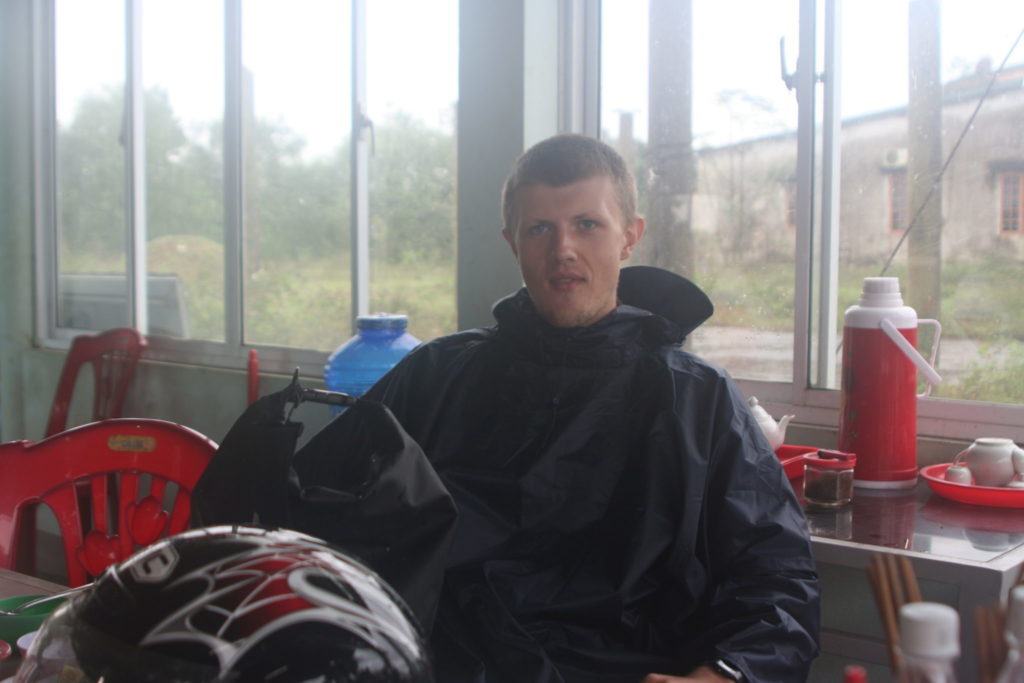 After lunch,  the rain was joined by wind and I got cold so that I put on my rain jacket. The wind slowed me then down. I just followed main road until I checked my GPS, I was in the middle of nowhere… I checked Open Street Maps and Google Maps, on both providers there was no road but it was the main road and all the traffic went over it. After 15 km it joined again the main road marked on my GPS. These 15 km were long as I didn't knew if it would go into the right direction,  windy,  rainy,  lots of traffic on a small road and nothing but rice fields as far as I could see. The view wasn't really clear because of the weather.
I arrived in a hotel and had a long half-warm shower. The heater didn't gave out more hot water…
Tomorrow I will continue to Đồng Hới. There I will decide. Either continue and skip the national park or stay and visit the national park the day after tomorrow. It depends on the weather. Currently the weather seems to be fine on the forecast,  but I have to check that tomorrow☺️