Distance:46 km Time: 2:14 Total distance:420
First of all,  my view this morning:
Yep,  this are already mountains of the Himalaya 😀
In the morning I was spending time in Bhimdatta,  the first city in Nepal after the border. My task: get a SIM-card to have mobile internet. After running around finding a shop (I thought there where many shops around), I found one. During the whole process I needed to get a copy of my passport in the shop next door,  then come back,  to get told that they also need a passport-picture of me,  so I went back to the hotel to get one I have already made. Finally I needed to place the fingerprint of my two thumbs on the formula and I was done. Now I have mobile internet and it only took me around 1,5 hours.
Because I was always running past this shop which repairs sewing machine,  the owner (in the back) and his son (in the left)  invited me in for a tea and a little chat.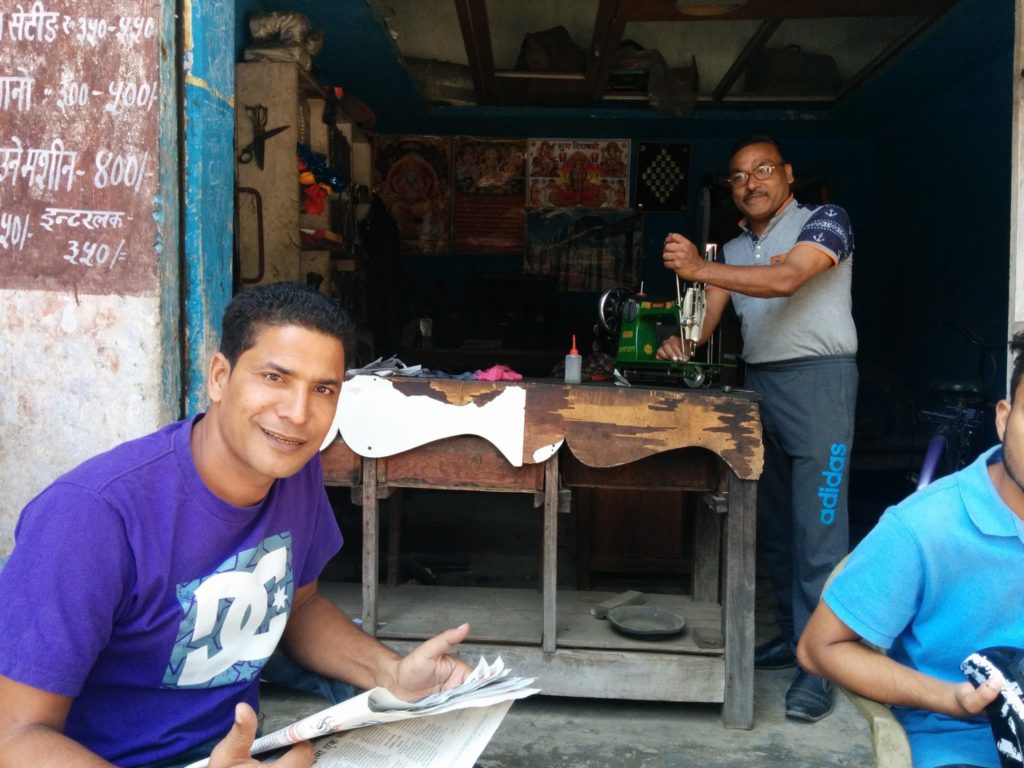 After passing my whole morning in the city, I was decided to start cycling.  After packing and checking out I started at 13:00. And I started without any real destination,  I just followed the road.
I suddenly realized that the cars and trucks are becoming less and the honking gets reduced to a minimum. Also the road is really nice to ride☺️ But when i look up from the road,  which I often do,  I see this beautiful landscape☺️ I passed through a forest of a natural resort,  saw lots of cows and monkeys. People are really nice although most of them seem to don't speak english. Also women start to smile and wave at me and not only man. Which happened rarely in India in on the road I was on.
As I can't find the name of the city I am currently in,  I can only provide coordinates: 28°48′42.92″N 80°33′12.37″E