no cycling
I did a post for multiple days, as I didn't want to spend every evening with writing this blog, as my daily routine changed a little bit. There is no cycling anymore, from which I want to rest in the evening, while this resting I always wrote my blog. We (My brother Charel, his girlfriend Gemma and me) always did stuff together with friends in the city, and we arrive late at Gemma's parent's home and went to bed, to get up in the morning, so I didn't have the time and enthusiasm to write my blog every day. Instead I wrote all the time a little bit and it ended up in this post and another post about how to blog while traveling, which will be published later.
Hanoi is a wonderful city, lots of nice places, lots of tourists and so on. I especially like all the different kind of foods. They do amazing different things with rice, and it always tastes different. Also different kind of meats. I am amazed 😀 You get this food on every corner and even sometimes there are places where you must have a local, as otherwise you will not find these places to eat. There was one place with (we called it that way) grilled banana leave meat, where there are people from the restaurant on the street stopping you to get to eat at their restaurant, funny part was, they only stopped Vietnamese people, no foreigners (as far as my/our observations went).
Hanoi is also the home of President Ho Chi Minh. One can see his dead body in the mausoleum here and visit the place where he lived in his last years. The museum about him looked nice, but I was not that amazed by it.
As Hanoi was often used as capital, there were multiple citadels build on top of each other. Funny story: When they wanted to build the new parliament few years back, they found remaining of the old citadels, so they started an archeology expedition and moved the construction site of the parliament a little bit down the street.
While I was in Hanoi there was also tet happened. Tet is the Vietnamese new year, which follows the moon calendar. We celebrated it with the family of Gemma by having meals with the family and exchanging red envelopes. On new year you give red envelopes with money in it to loved ones, who are younger than you. (I liked that concept while being one of the youngest :D). I expected a big firework, but private firecrackers and firework is forbidden and the one by the city was small out of respect for the people who suffered in the floods in October and December in the country and to donate the money to that areas.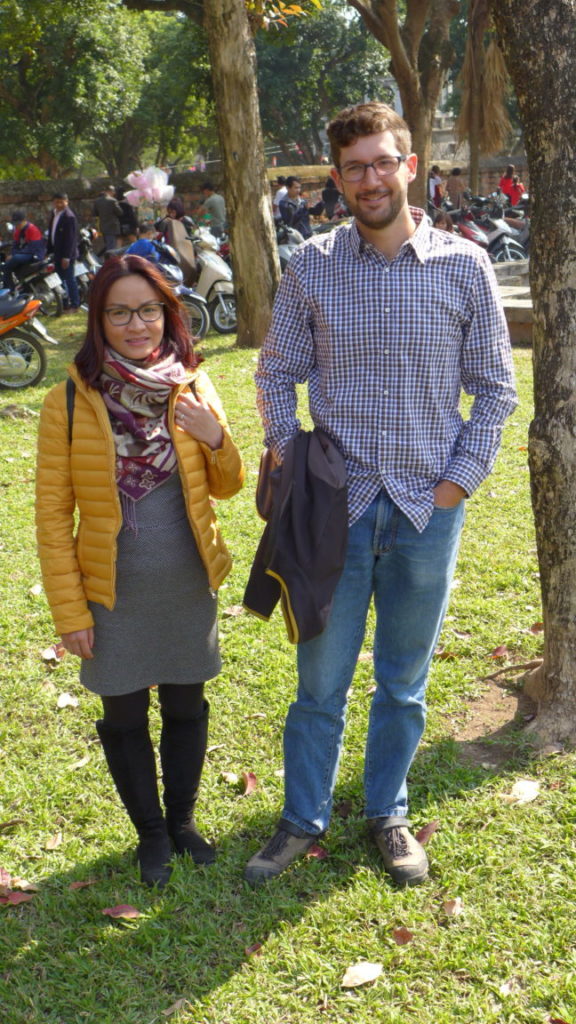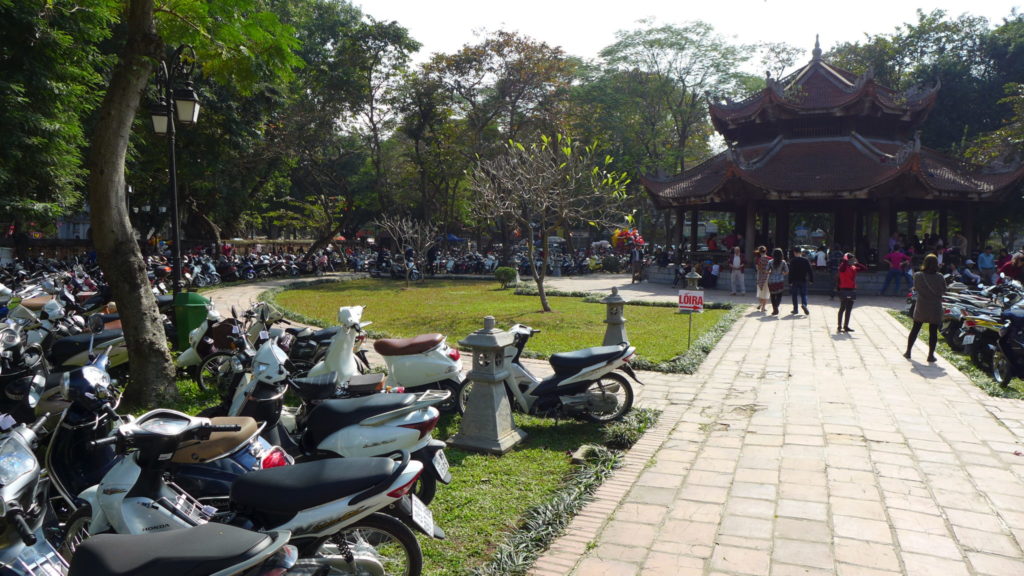 As I take my bicycle again with me back home, I had to find a carton box again. It ended up in a funny story. The first shop had already cleaned up the shop for new year, so no single box left… Then we called a shop and they had one. The next day, we went there, bought the box for 110.000 Vietnamese dong (5 $). That one we stored at Gemma's aunt's house as it was far to get to Gemma's parent's house. We stored it outside next to a street shop the aunt knows. I trusted them. In the evening the shop and the box was gone. Probably the trash collectors took it, as it looked like trash. A little bit of panic by the other people, I was just like "calm down, there is still plenty of time to find one tomorrow". We postponed the search to the next day and went eating something with a friend of Gemma. Gemma told the story of the box. The friend happened to know  a guy owning a bicycle shop and he organised us the same evening another box. That guy then was so happy to help us, so he gave it to me for free 😀 And of course we transported the box Vietnamese style: on the motorbike (sadly I don't have a picture of that…).
My time here in Hanoi ended with a 2 day trip to Halong Bay. It is a Bay close by Hanoi. One has to take a boat to visit certain spots there. The closest one to the harbour is a cave and a little beach with a temple, so there are so many boats.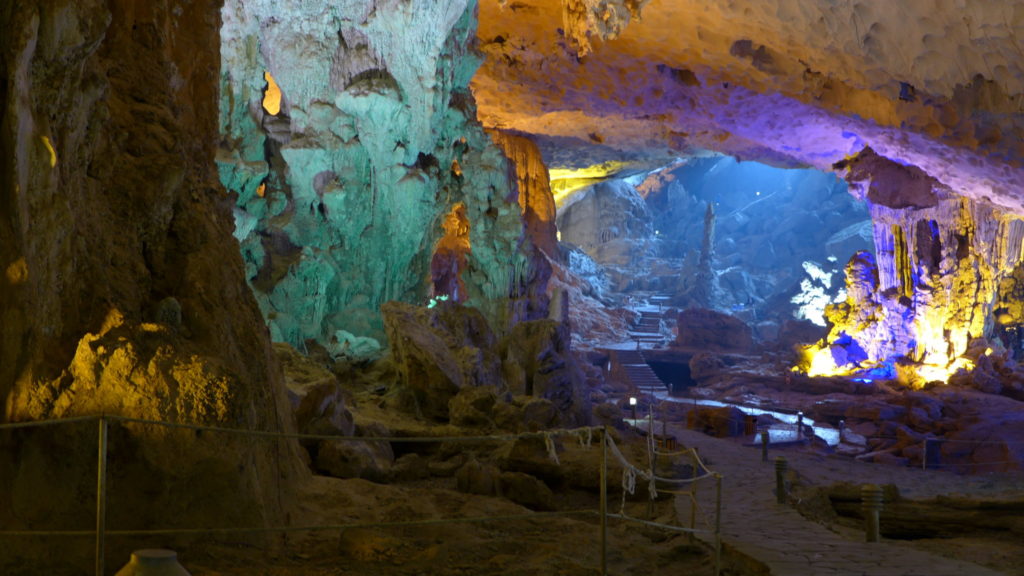 But for what Halong Bay is known for are these mountains. As we wanted to visit more further points, with less tourists, we spend one night on a cruise ship.
In the evening, the crew showed us how to make spring rolls. The guy showing it to us (not the cook but the guy right next to me), challenged me in speed rolling. It started normally.
But then HE got physical and tried to push me away and failed. I pushed successfully back, so that he couldn't reach his spring roll anymore. (Just for the record, he started the fight not me!)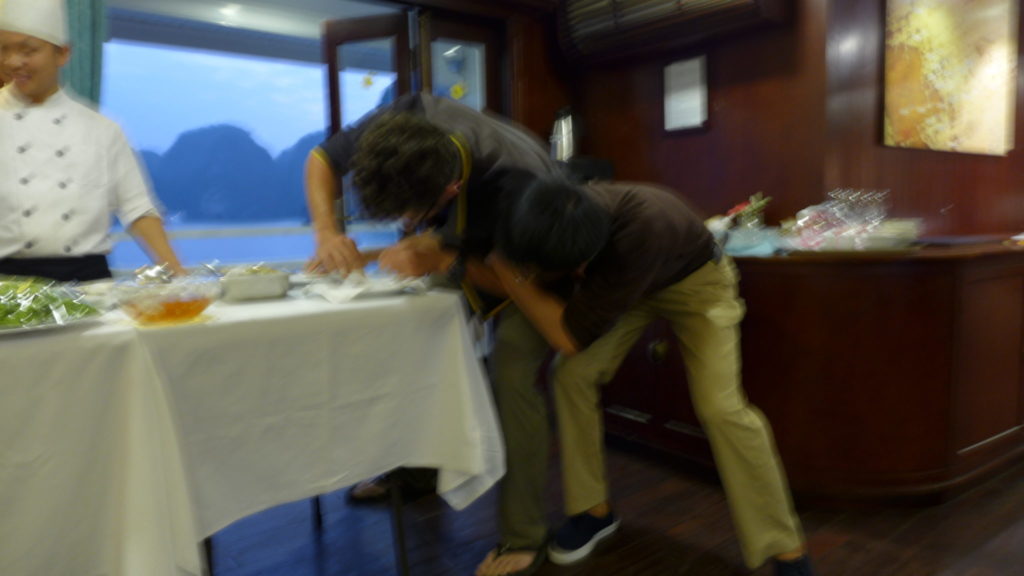 But still we managed to finish at the same time, with me having a very modern, not normal looking spring roll.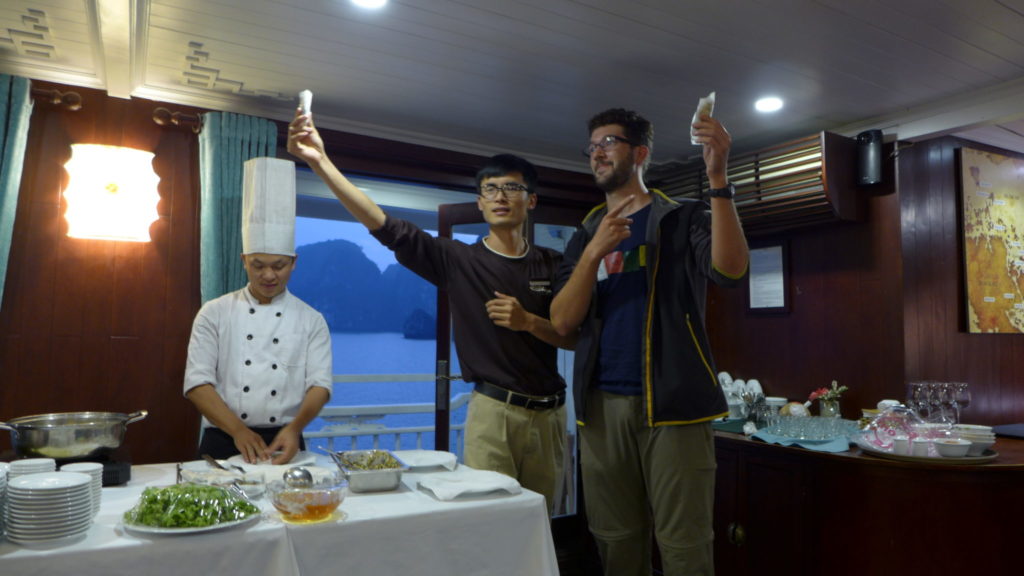 We shake hands afterwards and everybody is all right 😀
Where there a hills and water there are also caves. The next morning we got to a place, where we got to rowing boats and explored the area by them. As it was a little bit further away, there were just 3 curse boats, so less tourists 😀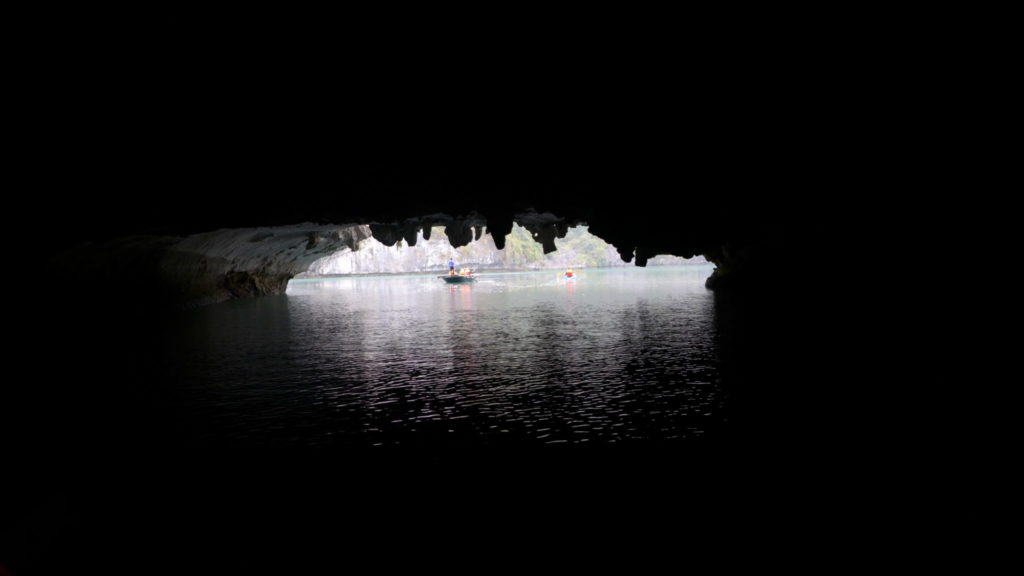 The day ended with us chilling a little bit on the deck. The weather wasn't sunny or hot, but still okay to lie there.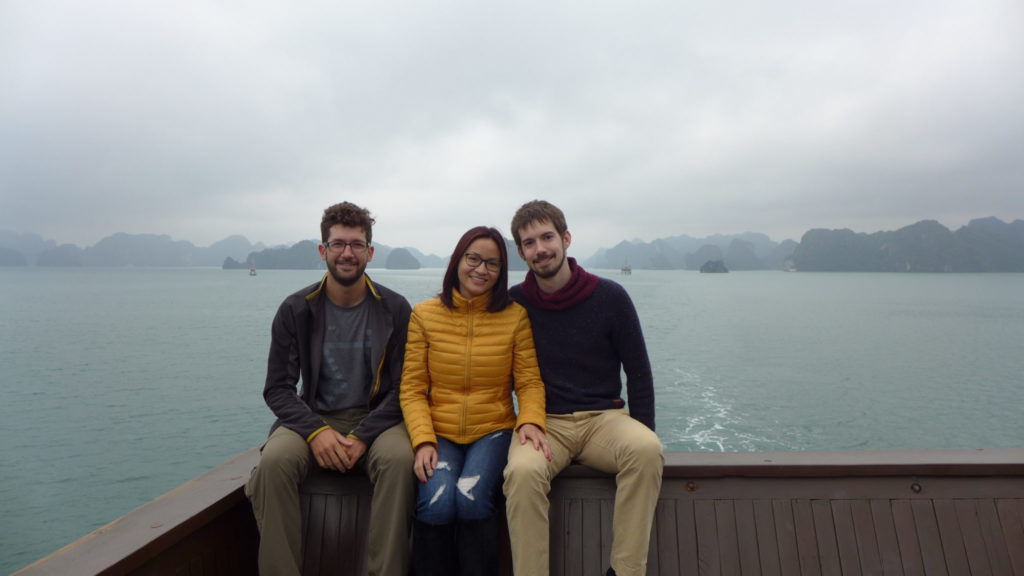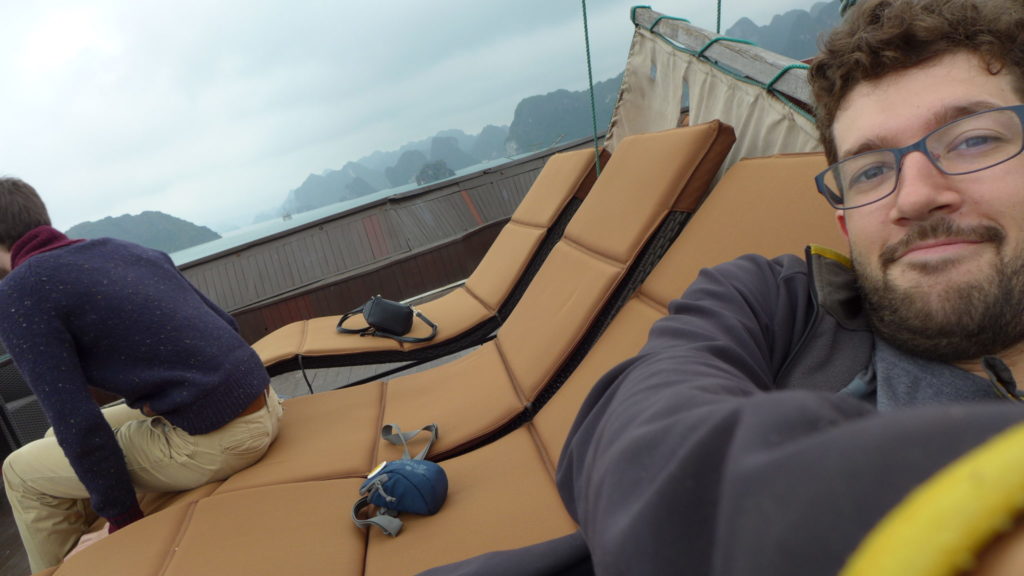 After a 4 hour ride back to Hanoi, we arrived back in Hanoi and relaxed a little bit more.
Tonight we will go out one last time and I will finish my packing because tomorrow evening I will board a plane to get me home 😀